First, before I get into this week's sales hiring tip, apologies for "going underground" for such a long stretch with no posts.
It was the "5 day project" that took 5 weeks that got me.
I've always wanted to have an online Sales Hiring Course that I was proud to offer as an introduction to the AHS System.
Finally decided to sit down and write it. Between life and my other client commitments it took five weeks. Over the next week or so, we'll post it for existing clients in the Member Area – and probably offer it as a "pay for" feature to email subscribers.
Thanks for your patience — and glad to be back.
A Smart Way to Get High Quality Information From Applicants
Client Jamie Futrell of Bristol Broadcasters from Paducah, KY is a savvy manager.  One of those Colombo type comments he made last month is really clever and worth passing along.
After he and his General Manager use the AHS system to screen applicants for Values and Styles, each of them then conducts interviews with the applicants. They use the AHS 4 Part Interview Module in the Member Area to script their interviews.
If they are satisfied and are close to making a favorable decision, Jamie calls the applicant and tell them "everything looks good." Then he says, "In order to help you (the applicant) to get a chance to meet some of the other salespeople and find out what I'm like to work for, I've arranged for you to spend a day with two of my reps."
The "key"is, Jamie makes sure to match male applicants with two male salespeople and female applicants with two female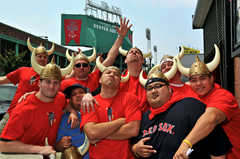 salespeople.
Male bonding and female bonding at work gives him much better quality information.
He told me about instances where his salespeople have come in after a day with the applicant and have told him "no way – and here's why." Then they proceed to tell him about something the applicant said "in confidence" that makes them totally unsuitable.