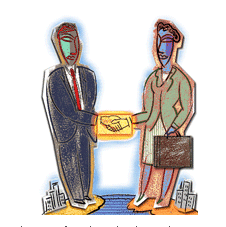 Ask any sales manager what their worst job is and 3 out of 4 times they'll say "hiring salespeople." In fact, most sales managers, who've had some experience in the job, can tell you about some real disaster sales hires they've made.
Want to be a successful sales manager? Realize, then, that you must stop doing what everyone else is doing – because most sales managers don't know beans about how to hire salespeople.
Just to review and make sure we know how most sales managers approach sales hiring (and what does not work), they: 1) Run ads for salespeople. 2) They get a bunch of resumes in and flip through them looking for previous sales experience, no typos, or a good-looking resume. 3) Next, they call in the selected applicants from the resumes they picked for interviews. 4) Finally, they conduct a "non-scripted interview" and try to pick which applicant will most likely succeed for them.
This is a formula for sales hiring disaster!
A Better Way to Hire Salespeople
Instead, take an entirely new approach at looking for salespeople. Changing your approach to sales hiring will at least double your sales hiring success.
Here are the secrets of sales hiring success:
Use a systematic approach to sales hiring.

Have a written procedure, step-by-step, of how your hiring system works. Doing this will help you overcome the urge to jump at hiring too quickly. Having a written system will also help you to see how all of the steps of your plan to hire a great salesperson. Just like you can't run to "Home plate" before you touch "Third Base", you can't skip steps hiring salespeople.

Make sure your recruitment ad uses the "right words".

Words are "symbols" in our brains. If I say "Mother" or "Patriotism" or "War", you and I all feel a certain "tinge." It is measurable and real. What this teaches us is that if you use the wrong words, you attract the wrong people. Be very careful that the words you use are right. And, since this is the beginning of the process, it is a very important step. The expression, "How you start is how you finish" applies here. Check your ad carefully. Make sure it attracts Money-motivated people who enjoy convincing other people to do what it is they want them to do.

Test applicants with scientifically validated profile tools before you meet them.

There are certain values and personality characteristics that are found in the overwhelming majority of great salespeople. Profiles can accurately test for these characteristics. You need two: one for values and one for personality style. Use them before you talk to applicants. In this way, you'll be focusing your energy on the applicants who are most likely to succeed. While it is true that some people who do not test well who can possibly succeed at sales, statistically the "odds" are against them. It is like playing cards and being dealt a good hand or a bad hand. Good cards make good players better.
Send rejection letters to applicants who do not pass the profiles. This is an important step in the process. It helps you keep the pipeline clear of applicants who don't make the grade.

Conduct a structured, tangential interview over at least 3, and preferably 4 meetings.

What this means is, first, ask the same questions of all applicants in the same order. It gives you a better way to compare applicants. Secondly, rather than ask direct questions where it is easy to give the answer they know you are looking for, make them give you examples. Finally, four separate meetings in an ideal way to find out if the applicant really is as good as they looked at the first meeting.
Taking these five steps and putting them into action will help you to double the sales hiring results you are achieving. When you put pen to paper, this is one of the best investments of time you can possibly make.
Great salespeople are the key to your success as a sales manager. Increasing the strength of your sales team gives you much more leverage. You can do more with less. You can have more predictable results, from quarter to quarter. In other words, your most important job should be hiring great salespeople.
If you'd like to know what sales hiring method is right for you, so you don't waste time and money on sales profiling tools or head hunters, click here to get your sales hiring Score Card. Your Score Card will gauge your company's readiness to successfully hire a Quality Sales Person.
Good luck and great sales hiring!

Alan Fendrich