I love it when AHS clients really think through the process of sales hiring. After all, hiring salespeople is THE most leveragable thing a company can do to increase revenue, change their corporate culture and improve their marketing.
Client Brad at a highly marketing driven company has been sending me regular messages as he winds through the process.
Hi Alan:
 Can the qualities of a successful candidate be buried in a resume?  Should we exclude people who "we think" might not be a fit based on a resume and or our bias? 
 The process that we are using is blindness to the resume, test 1 test 2 and then a phone interview…..
Although I don't disagree that a resume might contain valuable information, I wonder how you figure out which part is true and which is a lie? Better in my experience to ignore the resume and use it as a quick glance tool before the interview if they pass both profiles.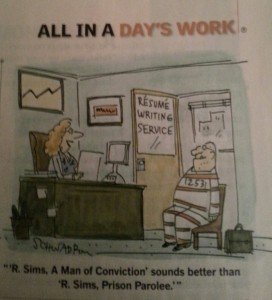 Do you have somewhere on your site that explains how to read a graph of the DISC and what it means?
In the AHS Member Area client members have total access to tutorials, essays, rants and raves on which styles behave which way and which ones have for nearly20 years that AHS has been tracking made more top performers than any other style.