If you're a sales manager who also has the responsibility to hire salespeople, you probably know that completing the hire is not just the end of a process, but the beginning of a relationship. Now you have to deal with managing the new hires—and relating to them—and that's not always easy. Oh sure, you know enough about them to be somewhat confident that they can do the job, but other aspects of their personalities are a mystery. Imagine the value of having all the information you need to understand, motivate, and manage your new salesmen. Something like, say, the comprehensive report generated after a DISC assessment.
As sales workers, we all know the importance of added value to our transactions with our customers. Wouldn't it be just as important to add value to our sales hiring process? The traditional sales hiring methods may lead us to certain perceptions about our candidates, but will they be able to handle stressful situations? Will they be able to interact in a positive way with the rest of the team? You can't just walk on eggshells until you know them well enough to know how to deal with them; who has the time? If only there were some way to understand the way they think and react—a crystal ball would be nice.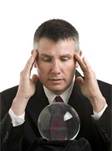 Well, the truth is, if you used the DISC assessment in your hiring process, you have the next best thing to a crystal ball. The DISC assessment provides a 22 page individual report for every person tested. The information on this report will provide insight to both the managers and the salesmen so that the most optimal professional relationship can be developed. If you've never used DISC assessment in your sales hiring process, here is a list of some of the sections that provide insights to your candidates/salesmen:
This section highlights the natural sales style of salesmen—how they deal with preparation, presentation, handling objections, closing, and servicing.
Value to the organization
In this section, you can identify specific talents and behavior, which will help you to develop a system to capitalize on the value brought by every individual and make each of your salesmen an indispensable part your team.
Checklist for communicating
When you care about your sales team, you want to be able to create an environment for effective communication so that everyone can interconnect at the appropriate level. This section provides insight on how to accomplish that.
Obviously, salesmen are more motivated when something they want is the "prize." By understanding the wants of salesmen, managers can be assured of having ways to keep them motivated, and therefore productive.
Although it would be nice if all salesmen could perform at an optimum level on autopilot, it's essential to be an effective manager. This section provides keys to managing salesmen according to the information provided by their responses on the DISC assessment.
There is much more information you can learn from a DISC assessment such as the one included in the AHS sales hiring system. Maybe it's not a crystal ball, but when DISC assessments are used in the sales hiring process, employees will be gratified in knowing that they are valued by the company and will perform at their highest level.